RV Manufacturer Warranty Repair Services
An RV Manufacturer Warranty is the warranty with is included with the purchase of your unit from the vehicle manufacturer and typically lasts 1-2 years. An RV Manufacturer Warranty is different from an RV Extended Warranty or Extended Service Plan as these are purchased aftermarket or with the purchase of your unit. Whether you only have an RV Extended Warranty/Service Plan or a Manufacturers Warranty - we can assist you with repairs for both!
Why choose Elite RV Roof & Collision for your RV Manufacturer warranty repair services?

We will do a FREE major systems check and scan your unit for anything that may need repaired under your RV Manufacturer Warranty contract.

This simple systems check has saved countless customers's vacations and can save you $1000's of dollars in repairs costs at facilities that do not work with RV Manufacturer Warranties.

Once this systems check is complete, our service advisors report any issues found back to you. With your approval we will submit any coverable repairs to your RV Manufacturer and have the repairs completed while your unit is at our facility for any other services you are having performed.

Get started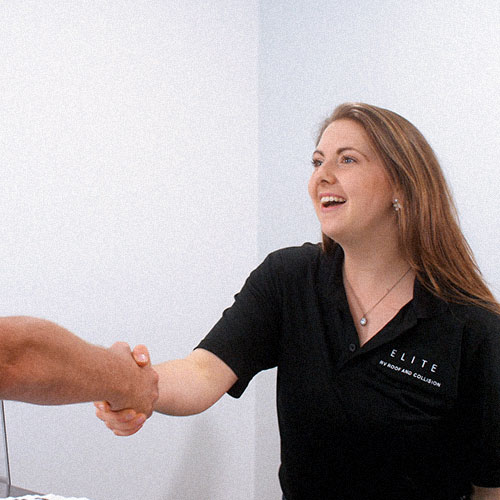 Our goal is to make your experience the best it can be so you
spend more time using your RV

instead of worrying about repairs.Get started
How the
Manufacturer warranty Process

Works


Elite RV Roof & Collision brings our same level of attention to detail, care, and precision to our RV Manufacturer Warranty Repairs to ensure that when your unit leaves our facility, it leaves in the best condition possible.
Contact Us

Whether it's through a text, call, website chat, or form submission we will need to gather some basic info to get the RV manufacturer warranty repair process started.

All warranty claims will require: Manufacturer Name, Model Number, Serial Number, Year, Make, Model, VIN of your RV and any additional information that you can provide.
Drop off

Set a time and get in to our service bay super fast—you can typically drop off same day after contacting our facility.

Our technicians will diagnose the cause of your issue, take any required photographs and help determine the appropriate course of action.

The amount of time it takes to get your unit into a bay can vary contingent on how many hours of diagnosis required.

Authorization & repair

Elite RV Roof & Collision works with your RV Manufacturer to repair your unit to the fullest extent.

We may be required to order parts to complete your repair, if this is the case we will let you know as this may delay the repair slightly.

Non-Specialty parts typically only take 1-2 days to arrive. Manufacturer or specialty parts can take between 2-4 weeks to arrive.
Completion & payment

Our office staff will keep you posted on all developments for your repairs, you will never be left out of the process.

There is a $25 Processing Fee to process all RV Manufacturer Warranty Claims and Elite RV Roof & Collision charges a small $99 diagnosis fee for most appliances. An example of your out of pocket fees would be as follows: $25 processing fee + $99 diagnosis fee for one appliance = $124 out of pocket.

After your RV repairs are completed our team will reach out immediately to schedule your vehicle's return, we will collect your signature on the completed work order and collect any out of pocket fees and then you are good to go!
RV Manufacturers we work with
We are currently adding more manufacturers to our RV manufacturer warranty service list monthly. Currently, we are working with the following companies:

Coming Soon

Coming Soon

Coming Soon

Coming Soon

Coming Soon

Coming Soon

Coming Soon

Coming Soon

Fill out the form below to get RV repairs covered under your manufactuer warranty contract